Translation Services Los Angeles
Translingua renowned Translation Services Los Angeles, USA.
Foreign Language Translation Services Los Angeles
Translingua delivers the best certified foreign language translation, interpreting, and global localization services in over 6500 languages and dialects around the globe that are personalized to care for your needs in Los Angeles and all over the United States.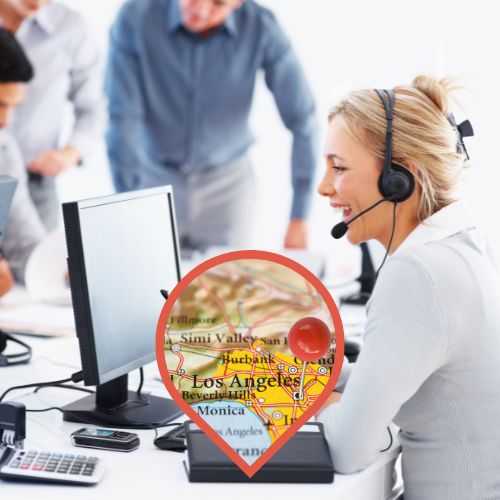 Machine translators have been a part of our journeys on browsing the internet, finding documents for our theses that are written in a foreign language, or talking to a foreigner online. You will find that some of the translated parts of your document don't make sense or are grammatically incorrect. What differentiates Translingua from these machine translators and all the other translation services providers is our continuously learning human translators mastering, not just the languages but also the culture, accepted norms, and appropriateness of context per language's country of origin. 
We are experienced, expanding, and guaranteed to handle every document with 100% responsibility for its accuracy, completeness, and appropriateness according to language. We are open to improvements, suggestions, and feedback from clients that help us grow even better.
Translingua has a versatile range of services, from certified language interpreter services from conferences,  certified ASL interpreting services, to voice over and subtitling. Inquiring for our solutions is very easy as well. We provide a free quote for your translation needs. You can contact us or submit a document on our website or our physical office.
About the City of Los Angeles
Los Angeles, officially the City of Los Angeles and more commonly known by its initials L.A., is the largest city in the state of California with an estimated population of about four million people. It is the second most populated city in North America, after Mexico and New York City. 
The diverse racial makeup of Los Angeles includes citizens from 180 countries who speak 220 different languages. In this population, almost 40% are foreign-born citizens from different countries like Mexico, the Philippines, China, and Korea. Since Los Angeles was once a part of Mexico, it has strong Spanish and Central American influences. The Asian population is also a significant influence on the city's culture and norms. 
Los Angeles is known for being the center of entertainment in the United States, particularly the television and film industry in which the Hollywood entertainment industry dominates. Aside from the interest brought by the media, citizens and tourists also find its Mediterranean climate, its sprawling metropolis along with a vast number of activities and attractions in the city some of the good reasons to frequent the area.
The need for translation services in the City of Los Angeles has been increasingly higher the past few years given their abundant attractions and startups that lure eyes all over the world. 
Certified Translation Services in Los Angeles
Translingua's 
certified translation services
Los Angeles, CA, feature 100% ATA certified, professional, and field expert human translators in over 6500 languages and dialects worldwide. With our credentials and years of experience, we ensure that your required language documents' accuracy and integrity are retained while preserving its contextual feel and cultural appropriateness and securing confidentiality for legal documents and other documents with sensitive or personal content.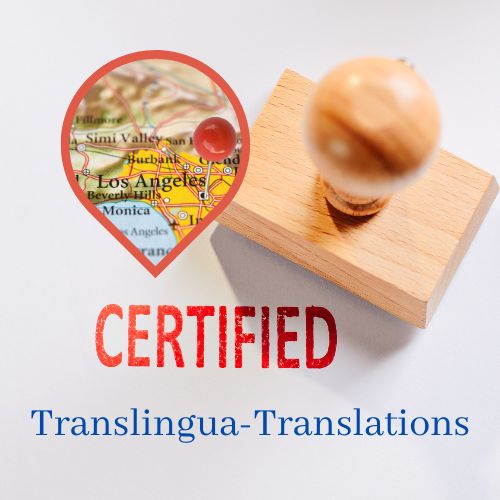 We offer certified language translation services for various industries in Los Angeles, such as:
Business Advertising & Marketing 
Media & Public Relations 
Biotech, Medical & Life Science 
Medical Devices 
Technical & Industrial 
Mechanical, Engineering 
Aerospace 
Legal 
Government
Military 
Personal Documents 
Education 
We deliver timely and accurate professional certified document translation services Los Angeles for documents including:
Birth & Marriage Certificates 
Divorce decrees
Passports 
Driver's licenses 
Legal documents (federal, state and local courts) 
Legal Contracts, titles 
Court documents 
Guidebooks 
Financial and bank statements 
Criminal background checks 
Advertising/marketing materials 
Asylum affidavits 
Powers of Attorney 
Medical Documents 
Websites Localization 
Product, Policy & Employee Manuals Employee handbooks 
Immigration documents
At Translingua, our expert linguists make sure that every certified translated document goes through an intricate process of approval in accordance with the United States, international governments and business standards.
Our services will help you take one step forward toward your goals. As an example, we process UCSIS-certified document translation for international students who plan to apply to schools in Los Angeles such as High school diplomas Academic transcripts Certificates Course descriptions Los Angeles-based universities also use certified translation services to serve students around the globe.
Professional Language Services by Translingua
For 44 years, Translingua has been proudly bridging the communication gap by providing specialized, high caliber and reliably accurate certified foreign language translation, interpretation and localization services to individuals, small businesses and industries, government agencies, corporations, and Fortune 500 companies in Los Angeles and throughout the world. Our expertise has been tested through the years and is continuously expanding to cater to your needs regardless of your required language or dialect. With our proven versatility and customer satisfaction guarantee, you can trust Translingua to provide you with the best certified translation services in Los Angeles. Contact us to get a free quote for your Los Angeles translation services.
Frequently Asked Questions
You can always contact us through our website, our e-mail, or go to our physical office to specify what part of the service went wrong. We will always try our best to be available to serve you and rectify if ever we make mistakes.
You can contact us through email via [email protected]. You can also visit the contact page where you can send a sample document and we can provide you with a free quote for our services.
Our services are backed by the collection of customer feedback and testimonials which prove how seriously we take our job. Please visit the Translingua Language Translation Guarantee for more information regarding our comprehensive guarantee for our services. We can also provide client feedback and testimonials for customer satisfaction proof.